Posts tagged 'electro-acoustic'
What would it mean to listen to a painting? What is the relationship between landscape, memory, gesture, vision, and sound—and how can technology help us begin to answer this question? Lei Liang has been exploring these intersections in his musical compositions: Brush-Stroke, In Praise of Shadows, and Listening for Blossoms all enmesh Liang's visual and perceptual experience with his own sonic world. Now, Liang has embarked on an ambitious project to combine this composerly practice with contemporary science, engineering, and technology, resulting in a three-part composition entitled Hearing Landscapes.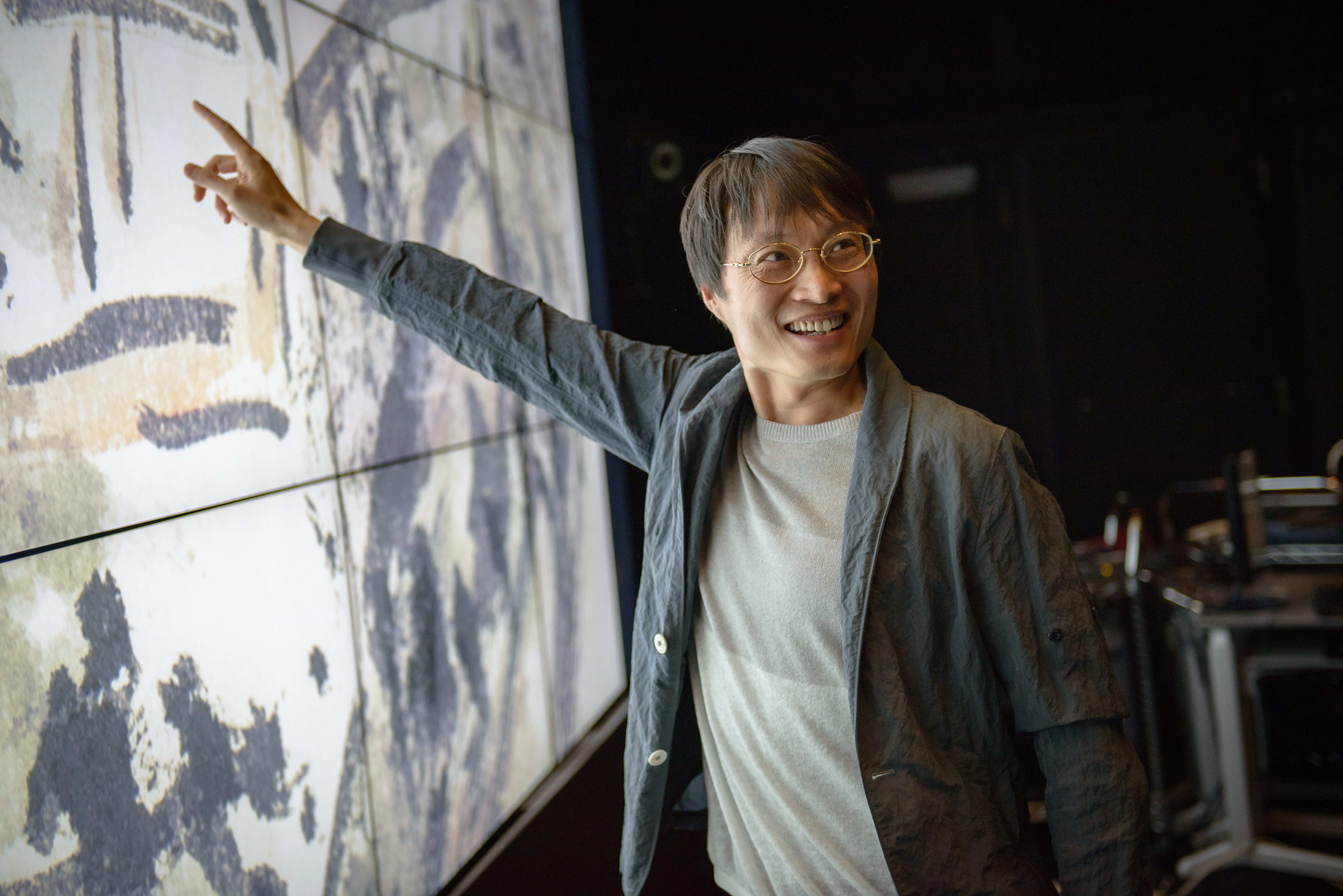 (Liang studies multi-spectral scans of Huang Binhong painting; © Alex Matthews)

As a composer-in-residence at the University of San Diego's Qualcomm Institute since 2014, Liang has been working on a project that explores the correlations between sound and vision in traditional Chinese art. "Hearing Landscapes" begins with the paintings of Huang Binhong, a chinese painter whose freehand calligraphic landscapes continued the long tradition of ink-wash painting that dates back to the Tang dynasty into the 1950s. With support from the Mozhai Foundation, who loaned Liang artworks by Huang Binhong, and several grants from the National Science Foundation and the Calit2 Strategic Research Opportunities award, Liang and a team of scientists and engineers produced ultra-high resolution, multi-spectral scans of Binhong's works. From these scans, Liang and another team of engineers produced software to translate Binhong's brush-strokes into the sonic world of spatialized, granular synthesis, which Liang uses in his three-part electro-acoustic composition, Hearing Landscapes.
A new documentary has just been released that features excerpts from "Water and Mist", one of the three parts of Liang's Hearing Landscapes, alongside interviews with the project team and stunning footage of the project. Watch the film above, and check out a performance of Liang's Brush-Stroke with the Callithumpian Consort, below:
Morton Subotnick, the legendary electronic musician and composer, will see several of his landmark recordings from the 1980s re-released on WERGO. After his pioneering album Silver Apples of the Moon, which Subotnick created using the Buchla modular synthesizer, Subotnick continued to compose and create new music both for electronics and acoustic instruments. Throughout this stage in his career, Nonesuch Records released several albums of Subotnick's music, in addition to several records released by Columbia Masterworks. As sound technology advanced throughout the 1970s into the 1980s, Subotnick began to experiment with digital technology to enhance and interact with acoustic instruments; his "ghost electronics", present in several works from the 1980s, provides a spectral accompaniment to live performers.
Many of these works were recorded and released on albums by Nonesuch, though after the initial pressings of LPs, these recordings have not been commercially available. Now, for the first time in over 20 years, WERGO has digitized, re-mastered, and re-released many of these crucial recordings on CD. Their first re-release contains recordings of The Wild Beasts and After the Butterfly; the second volume will contain recordings of A Fluttering of Wings, Ascent into Air, The Last Dream of the Beast, and Axolotl. Scores and performance parts for many of these works are also available directly from PSNY.
As Subotnick becomes more and more recognized for his pioneering compositions, these re-releases document a crucial moment in his career, incorporating electronics into composition for acoustic instruments. These works are accessible, portable, and performable by any new music ensemble, and these recordings will shed light on a brilliant chapter in Subotnick's oeuvre. Check out an interview with the Red Bull Music Academy below.
Lecture: Morton Subotnick (Madrid 2011) from Red Bull Music Academy on Vimeo.
With snow piling up across America, it's a great opportunity to spend some time indoors practicing... new music! This week we're excited to feature three newly-pubilshed works: Morton Subotnick's "Trembling", Mario Diaz de Leon's "Luciform", and Scott Wollschleger's "America".
Morton Subotnick's "Trembling" is scored for violin, piano and "ghost score" technology, Subotnick's interactive electro-acoustic software which autonomously spatializes and reacts to acoustic phenomena. Taking a recording of Joan La Barbara speaking the word "trembling," Subotnick "recorded, synthesized, and transformed" this utterance and used it as the basis for his composition. Check out a sample of the recording below:
Mario Diaz de Leon's "Luciform", for solo flute and electronics, also plays with the interaction between performer and software, but in a different way; the work is a "journey inward, a movement through a series of vision states. A difficult path, a rite of passage, hovering between diabolical intensity and lucid wakefulness." Recently recorded by Claire Chase for her fantastic album "Density," "Luciform" is a complex, intensely virtuosic work with a profound depth of both acoustic and electronic textures.
Though Scott Wollschleger's "America", for solo cello, does not include electronics, it remains connected to Subotnick's and Diaz de Leon's works through its exploration of "timbre, virtuosity, and differential repetition." Not bound to pitch-space or harmonic structures, Wollschleger's work explores the timbral possibilities of the cello with extended technique with both instrumentation and sonic organization.