Volume II of Osamu Kawakami's Suite 'Carapace' is Published
Mar. 01, 2021
Following the first volume of Osamu Kawakami's Suite "Carapace" for violin, cello and piano, published in July 2016, the long-awaited second volume in the series of works for piano trio has become available for sale.
Suite "Carapace" consists of fifteen small pieces, composed over a period of ten years beginning in 2005, and divided into three collections depending on the time when it was composed. As the title suggests, the entire collections of works was composed with crustaceans and related aquatic organisms in mind.
Five works, composed between 2008 and 2010, are published in the second volume: Swimming Crab, Water Flea, Skeleton Shrimp, Harlequin Shrimp and Sea Scorpion. In each work, the ecology and texture unique to these creatures is reflected via the keen, observant eye and imagination of the composer through many different perspectives; sometimes microscopically, and other times as though surveying the bottom of the ocean, maximizing the sonic possibilities of the piano trio.
In 2019, Banded Coral Shrimp, which will be published in a forthcoming Volume IV, was composed for violinist Akiko Suwanai. The world premiere of the work was presented at the concert 'Akiko Plays MODERN with Friends' which was part of 'International Music Festival NIPPON 2020' at Kioi Hall in February 2020. Kawakami is planning to compose new works in the "Carapace" series bringing to players and listeners with each new piece a refreshing sense of surprise.

Listen to Osamu Kawakami's Gatling carapaces (2015):

(Gatling carapaces/Osamu Kawakami/Ken-ichi Toubaru, oboe; Ayano Suehiro, trumpet;
Yoshu Kamei, violin; Takahiro Yasuda, viola; Seiko Takemoto, cello; Shizuka Kuretani, piano;
Mizuki Aita and Takayuki Suzuki, percussion; Tomoki Tai, conductor)


Osamu Kawakami
Suite "Carapace" Volume II
for violin, violoncello and piano
Swimming Crab
score and parts
SJ 1200
ISBN : 978-4-89066-504-4
ISMN : 979-0-65001-286-7
JAN : 192-3073-02200-9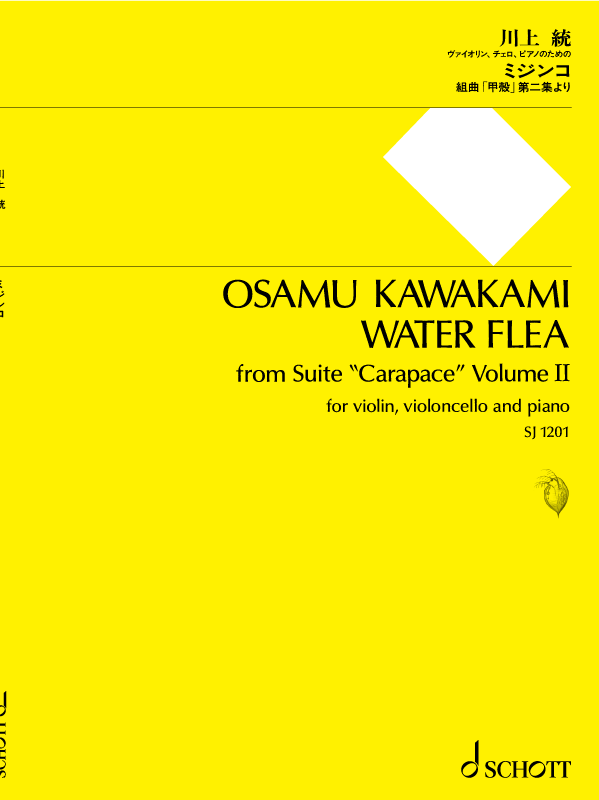 Water Flea
score and parts
SJ 1201
ISBN : 978-4-89066-505-1
ISMN : 979-0-65001-287-4
JAN : 192-3073-02000-5
Skeleton Shrimp
score and parts
SJ 1202
ISBN : 978-4-89066-506-8
ISMN : 979-0-65001-288-1
JAN : 192-3073-02300-6
Harlequin Shrimp
score and parts
SJ 1203
ISBN : 978-4-89066-507-5
ISMN : 979-0-65001-289-8
JAN : 192-3073-02200-9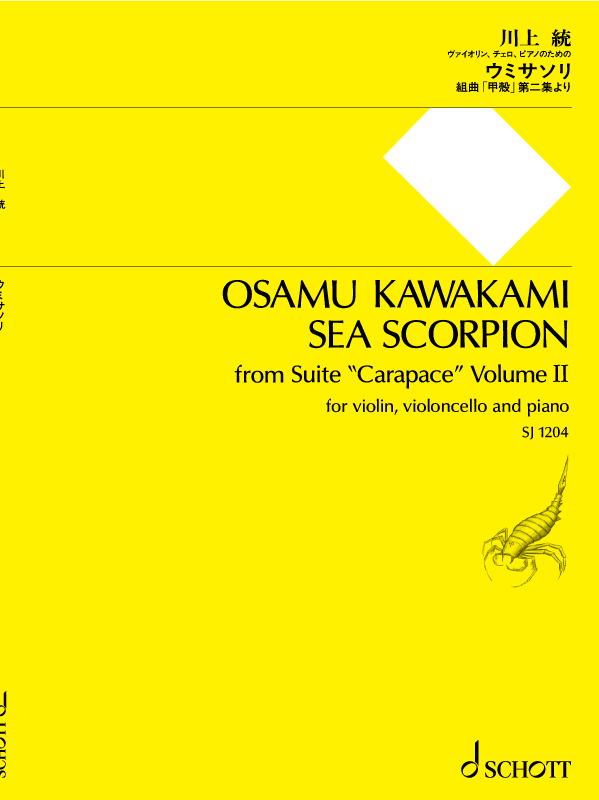 Sea Scorpion
score and parts
SJ 1204
ISBN : 978-4-89066-508-2
ISMN : 979-0-65001-290-4
JAN : 192-3073-02200-9
News
Following acclaimed world premiere performances of Julian Anderson's Incantesimi with the Berlin Philharmonic, the Boston Symphony Orchestra, and at the …

Zen-On presents five new chamber works for soloists or duos as part of their 24th annual contemporary music concert "Groupe …

The Saint Louis Symphony Orchestra led by David Robertson performs Sir Michael Tippett's beloved oratorio A Child of Our Time …