Awakenings by Tobias Picker & Aryeh Lev Stollman and Harvey Milk Reimagined by Stewart Wallace & Michael Korie Triumph at Opera Theatre of Saint Louis
Jun. 24, 2022
The Opera Theatre of Saint Louis's 2022 Festival Season was headlined by two exciting world premieres: Tobias Picker and Aryeh Lev Stollman's Awakenings and Stewart Wallace and Michael Korie's Harvey Milk Reimagined.

Awakenings, an opera by Tobias Picker and Aryeh Lev Stollman, is based on Dr. Oliver Sacks' acclaimed 1973 book, which relates his astonishing work with victims of the great sleeping-sickness pandemic of 1916-1927, Encephalitis Lethargica. Although millions died during the pandemic, many thousands lived on to be left "frozen," like living statues, often locked away in hospital wards, forgotten and "asleep." In the late 1960s, Sacks recognized that real lives were trapped inside these forlorn bodies. By experimenting with the wonder drug L-DOPA used to treat Parkinson's, he began to bring these patients back into being—real people who had lost decades of their lives.

The production, conducted by Roberto Kalb and directed by James Robinson, ran from June 5-24 at the Loretto-Hilton Center in Saint Louis. Susan Elliott of Musical America notes, "Whether relevant to the tragedies of today or those of the last century, it is a story of the human condition, of re-awakenings and the consequences of them, of life's mixed blessings, and, mostly, of love...[Awakenings is] as well-crafted musically as it is compassionate."
Read: "How We Met: Oliver Sacks and Tobias Picker" (Independent, September 26, 2010)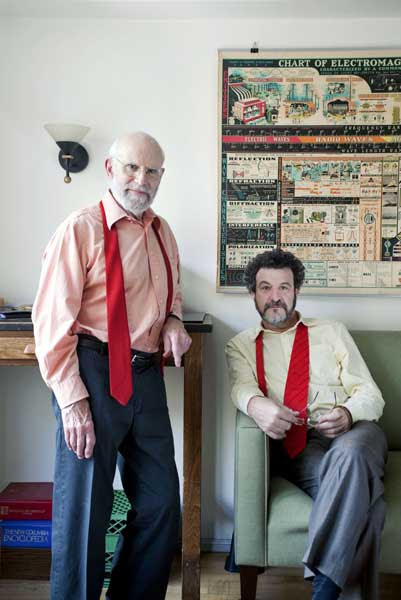 Tobias Picker and Dr. Oliver Sacks (2010)
Photo: Anna Schori
Click here to read an engaging article about Awakenings, Dr. Oliver Sacks, and the opera's creators, Tobias Picker and Aryeh Lev Stollman, by Joshua Barone for The New York Times.

David Portillo sings "I am a quiet flower" from Awakenings
by Tobias Picker and Aryeh Lev Stollman



The world premiere of Stewart Wallace and Michael Korie's opera Harvey Milk Reimagined, was presented by the Opera Theatre of Saint Louis on June 11 with additional performances through June 25.
Harvey Milk Reimagined is inspired by the life and martyrdom of San Francisco's first openly gay elected public official. Milk had a foot in two separate ghettos: one gay, one Jewish. He was a boy in Long Island at the time of the liberation of the concentration camps in Europe at the end of World War II. Like many Jews of his generation, he clearly saw that remaining silent was no longer a moral option. His sense of moral outrage and courage stems from this time. When he began to transfer these lessons to himself as a gay man, he transformed himself from a closeted Wall Street businessman into an outspoken leader of the gay community.

For this production, conducted by Carolyn Kuan and co-directed by Seán Curran and James Robinson, Stewart Wallace and Michael Korie have radically reimagined the score with an emphasis on its mythic elements as a celebration of Harvey Milk's life. This new work is streamlined, taut, and visceral.
Harvey Milk Reimagined has received universal critical acclaim. Sarah Fenske of The Riverfront Times says, "Brilliant...nothing short of a triumph...You should drop everything and see Harvey Milk. It is a thrilling debut, and St. Louis will surely not be its final stop."

Writing for Broadway World, Steve Callahan raves, "Don't miss it…a quite marvelously theatrical, dream-haunted evening…Wallace's score is gorgeous. It's rich and amazingly varied, beautifully dramatic, complex yet totally accessible."
Opera Theatre of Saint Louis's Artistic Director James Robinson spoke recently with Saint Louis Public Radio about the world premieres of Awakenings and Harvey Milk Reimagined. Listen to the interview here.

In an interview with Zachary Woolfe for The New York Times, Stewart Wallace noted, "The music [in Harvey Milk Reimagined] is freer now, and more organic, and yet completely recognizable as what we wrote. The bones are the same, but the meat is different; it's leaner and more fluid and more direct, with more rhythmic clarity. There's nothing to take you away from the thrust of the narrative and the music." Read the full article here.
To learn more about Tobias Picker, visit: schott-music.com.
To learn more about Stewart Wallace, visit: schott-music.com.

Tobias Picker
Awakenings (2019)
an opera in two acts
libretto (Eng) by Aryeh Lev Stollman
Dr. Oliver Sacks, mid-30's, a neurologist – Baritone
Dr. Podsnap, mid 50's, medical director of Beth Abraham – Bass
Mr. Rodriguez, early 30's, nurse – Light Tenor
Rose R., early 60's, patient in Beth Abraham – Soprano
Miriam H., mid-50's, patient in Beth Abraham – Contralto
Leonard Lev, mid- 40's, patient in Beth Abraham – Tenor
Iris Lev, 70, Leonard's mother – Mezzo-soprano
Chorus - SATB (12) comprising patients, hospital
administrators, staff & incidental characters

2(2.pic).2.2(2.bcl).2-4.2.2.1-timp-hp.pno(cel)-str
100'
Stewart Wallace
Harvey Milk Reimagined (2020)
libretto (Eng) by Michael Korie
Harvey Milk · high baritone - Dan White · tenor - Scott Smith · tenor - Dianne Feinstein · soprano - George Moscone · bass - Anne Kronenberg · mezzo-soprano - Henrietta Wong · soprano - The Messenger · countertenor - Young Harvey · boy tenor - Mama · mezzo-soprano - Closet Lover Jack · baritone - mixed chorus

2(2pic).1(ca).2(bcl, ecl).1(cbsn)-2.1(pictpt).1.btbn.1-timp.1perc(glsp, chimes, vib, tam-t, b.d, piatti, tri, wdbl, tempbl, anvil, cowbell, police whistle, drum set (s.d, 4tom-t, kick drum, crash cym)-kbd-str(min 4.3.3.2.2)
108'