UK Premiere of Thomas Larcher's The Hunting Gun at the Aldeburgh Festival
Jun. 01, 2019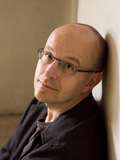 On June 7, Thomas Larcher's acclaimed first opera, The Hunting Gun, received its UK debut at the Aldeburgh Festival. The premiere was led by fellow composer and conductor Ryan Wigglesworth, featuring the debut performances of the Knussen Chamber Orchestra, and the EXAUDI Vocal Ensemble, with stage direction by Karl Markovics. The libretto by Friederike Gösweiner is based on the eponymous novella by Yasushi Inoue (1949) in a German translation by Oscar Benl. Larcher describes his opera:
"When I read the story of The Hunting Gun for the first time, I was immediately captured by its timelessness. It addresses questions encountered and recognized by absolutely everyone involved in relationships with other individuals, myself included, such as whether to stay or leave, speak out or stay silent, hold on or let go. The central focuses of the work are the illusions we maintain in almost every relationship, as well as the ultimate, profound loneliness inherent in every human being.

Three women, who have each misled and been misled in different ways, describe their relationship with a man, the owner of the eponymous hunting gun, in letters written from a wide variety of perspectives. This figure turns up enigmatically in the life of the narrating poet, and provides the external impetus for this record of events.

Set against the seemingly calm exterior of the plot, the music takes on the role of illustrating the storms raging within the various protagonists, shedding a microscopically fine light on their emotions. As is the case with many Japanese texts, "The Hunting Gun" involves a ritualistic aspect, which I uphold in my opera with a construction similar to that of a Passion. The sonorities of the solo instruments are spatially enhanced by seven choral singers."
A number of Larcher's other works are receiving performances as part of the Aldeburgh Festival: On June 8, the world premiere of Larcher's Movement for solo piano, commissioned by the festival, was performed by Paul Lewis. On June 9, Larcher's Poems for solo piano and A Padmore Cycle were also performed in recital featuring the composer at the piano. In addition, the Albion Quartet's performed Cold Farmer on June 11. The Heath Quartet played Madhares on June 15. Larcher's Red and Green was performed by the BBC Symphony Orchestra under the baton of conductor Karina Canellakis on the same day as well. Quatuor Diotina will perform String Quartet No.4 'Lucid Dreams' on June 18, and on June 20, Ardeo Quartet plays IXXU. Finally, the City of Birmingham Symphony Orchestra will present Larcher's Ouroboros on June 23 featuring cellist Alisa Weilerstein under the direction of conductor Edward Gardner.
Listen to Thomas Larcher's Symphony No. 2 'Kenotaph' (2015-2016) here:

(Symphony No. 2 'Kenotaph'/Thomas Larcher/BBC Symphony Orchestra/Semyon Bychkov, conductor)

To learn more about Thomas Larcher, visit: schott-music.com.
Thomas Larcher
The Hunting Gun (2016-2018)
opera in three acts
libretto (Ger) by Friederike Gösweiner based on the novella by Yasushi Inoue
1(pic).1(ca).1(Ebcl, bcl, cbcl).1(cbsn)-1.1.1.0-2perc(timp, 2glsp, xyl, 2mar, 2vib, steel pans, tub bells, 4crot, b.d., ten.d, Indian drum, O-daiko, caisse claire, sm military drum, Frame drum, Bongo, 5templeblks, cowbell, oil barrel, 2 thundersheets, 2tam-tams, 6sus cym, Chinese cym, 2woodblks, 2sus paper, sandblks, whip, sm biscuit tin, vibraslap, ratchet)-cimbalom.acc.prepared pno(cel)-str(1.1.1.1.1)
100'
Movement (2019)
for solo piano
11'

Poems (1975-2010)
12 pieces for pianists and other children
18'

A Padmore Cycle (2010-2011)
3(2.picc, 3.bfl).3(2.triangle, 3.ca).3(3.bcl & cbcl).3(c.cbsn)-4.3.3(2.sus cum, 3.tri).1(tam-tam)-timp.4perc(glsp, vib (with bow), xyl, marimba, tub bells, crotales, sus cym, Chinese cym, 4 tri, 3 tuned gongs, cowbell, s.d., lg b.d., roto-toms, Indian drum, sandblocks, wind machine, guiro, flexatone, 2 milk pans with cake fork, oil barrel-acc.hp.pno(prepared)-str(14.12.10.8.6 (Db 4-6 5 stings))
25'

Cold Farmer (1990)
for string quartet
14'
Madhares (2006, rev. 2007)
for string quartet
18'

Red and Green (2010)
for orchestra
4(3.4.pic). 4 (4.ca). 4(4. bcl, cbcl). 4(4.cbsn)-6.4.4(1atbn, 2ttbn, 1btbn).1-4perc-hrp.acc.pno(cel)-str
22'

String Quartet No.4 'Lucid Dreams' (2015)
for string quartet
27'

IXXU (1998-2004)
for string quartet
14'

Ouroboros (2015)
perc(vib, crots, mar, Chinese cym, lg tam-t, timp, tenor drum, lg b.d., Indian drum, wind machine, buiscuit tin, oil barrel)-pno-str
20'
News
The Saint Louis Symphony Orchestra led by David Robertson performs Sir Michael Tippett's beloved oratorio A Child of Our Time …

For thirty-five years, beginning with the tenure of Music Director Stephen Cleobury, the Choir of King's College has commissioned a …

Six works by Czech composer Miroslav Srnka were the principal focus of the 2017 DIALOGUES Festival in Salzburg, organized by …