Thomas Larcher Awarded the Grand Austrian State Prize
Oct. 01, 2019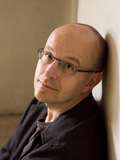 On October 10, Thomas Larcher will be presented with the prestigious Grand Austrian State Prize, the highest honor awarded by the Republic of Austria in recognition of outstanding artistic achievement. Austrian Cultural Minister Alexander Schallenberg describes Larcher as 'a frontier crosser of music that has developed a specific timbre of its own'. Previous recipients of the Grand Austrian State Prize include György Ligeti, Friedrich Cerha, HK Gruber, Georg Friedrich Haas and Olga Neuwirth.

In 2018, Thomas Larcher was the winner of another esteemed award, the Fondation Prince Pierre de Monaco Musical Composition Prize for his work Symphony No.2 'Kenotaph'. Fondation Prince Pierre de Monaco was established in 1966 by Prince Rainier III in memory of his father Prince Pierre, a great lover and patron of arts. Today the foundation is chaired by Princess Caroline of Hannover, and is committed to the promotion of contemporary literature, music and art.
This season, Thomas Larcher is Composer-in-Residence at The Royal Concertgebouw, Amsterdam which presented the first concert of his residency on October 1. In March, the Dutch National Opera and Ensemble Modern, directed by Karl Markovics and conducted by Michael Boder with production design by Katharina Woppermann, will perform his acclaimed first opera, The Hunting Gun – Das Jagdegewehr. Upcoming commissions include an ensemble work for Asko | Schönberg on April 2, and a Third Symphony to be given its world premiere by the Netherlands Radio Philharmonic Orchestra under the direction of Hannu Lintu on May 9.

(Symphony No. 2 'Kenotaph'/Thomas Larcher/BBC Symphony Orchestra/Semyon Bychkov, conductor)

To learn more about Thomas Larcher, visit schott-music.com.

Thomas Larcher
Symphony No. 2 "Kenotaph" (2015-2016)
3(2.afl., 3.pic).3(1-3.small slide whistles).3(1-3.small slide whistles, 2.Ebcl., 3.bcl)3.(1-3.large slide whistles, 3.cbsn)-4.3(1.pictpt).3.1-timp/perc (min. 5 players) (glsp, vib, xyl, mar, crots, tub bells, 2 cym, Chinese cym, Sizzle cym, 2 t-tam, 2 tri, s.d., tenor drum, b.d., bongo, Indian drum, 3 temple blks, wd blks, whip, cast, 2 sand blks, light paper, 2 metal coils, oil barrel, flexatone, vibraslap, mixing bowl, metal mixing bowl, biscuit tin, 2 thunder sheets-acc.cel.pno(with preparation).hp-str(14.12.10.8.6 [db4-6 are 5 string basses, db1-6.slide whistles (3 small & 3 large)])
37'

The Hunting Gun - Die Jagdegewehr (2016-2018)
opera in three acts
libretto (Ger) by Friederike Gösweiner based on the novella by Yasushi Inoue
1(pic).1(ca).1(Ebcl, bcl, cbcl).1(cbsn)-1.1.1.0-2perc(timp, 2glsp, xyl, 2mar, 2vib, steel pans, tub bells, 4crot, b.d., ten.d, Indian drum, O-daiko, caisse claire, sm military drum, Frame drum, Bongo, 5templeblks, cowbell, oil barrel, 2 thundersheets, 2tam-tams, 6sus cym, Chinese cym, 2woodblks, 2sus paper, sandblks, whip, sm biscuit tin, vibraslap, ratchet)-cimbalom.acc.prepared pno(cel)-str(1.1.1.1.1)
100'
News
The intrepid American conductor Jeffrey Milarsky led Juilliard's AXIOM in a performance of music by Luciano Berio on December 1 …

The Juilliard Percussion Ensemble, led by Daniel Druckman, presents "Bell and Drum: Percussion Music From China" on December 11 …